Medical Assistant Skills That Boost Resumes
Career Skills for Medical Assistants
Medical Assistant skills go beyond the classroom.
Medical Assistants combine soft and hard skills to make medical facilities inviting. Healthcare facilities need Medical Assistants with administrative and clinical qualifications. A variety of knowledge gets a medical assistant's resume noticed.
Medical Assistant Clinical Skills
Students in PCI's Medical Assistant program practice the medical skills sought out by employers. Aspiring Medical Assistants gain hands-on experience in lab classes. They practice important clinical skills for medical assistants including:
Performing Injections
Phlebotomy
EKG
Autoclaving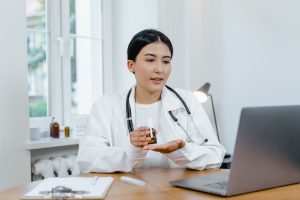 Medical Assistant Administrative Skills
The job market is full of opportunities for those with front office skills. Savvy organizers are valuable at the front desk and bedside. Students can add these medical administrative assistant skills to their resumes:
Managing Medical Records
Scheduling Patients
Tracking Inventory
Insurance Pre-Authorizations
Soft Skills for Medical Assistants
Medical Assistants are often the first people patients see when they come in for an appointment. People skills go a long way in building patient trust and office relationships. Soft skills that will benefit Medical Assistants include:
Phone Skills
Empathy
Customer Service
Grow with PCI
Students in Texas can access the education to join a growing workforce.
PCI's Medical Assistant program is open to students in Richardson and Dallas. Develop needed skills and gain valued experience in as little as nine months.
Call (214) 630-0568 to start developing essential medical assistant skills.