Accreditation
An accreditation seeks to assess and enhance the educational quality of an institution. ACCSC promotes institutional accountability by systematically and comprehensively evaluating institutions based upon criteria established via the Standards of Accreditation.
ACCSC's Standards of Accreditation provides an accountability framework to ensure that institutions offer well developed programs that prepare students for their chosen fields of work, and requires institutions to assess continually and show success in meeting established program objectives. This accountability framework also helps to ensure that institutions grow in an appropriate and responsible fashion and in a manner that best meets the needs of students and of the employment community.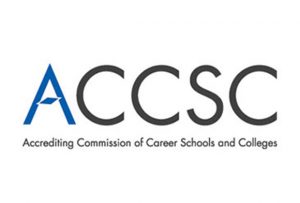 The Accrediting Commission of Career School and Colleges has recognized PCI Health Training Center Dallas Campus as a 2013 ACCSC School of Distinction. ACCSC (previously ACCSCT) has also recognized PCI Health Training Center Richardson Campus as a 2008 ACCSCT School of Merit.
ACCSC recognizes accredited member schools that demonstrated a commitment to the expectations and rigors of ACCSC accreditation, as well as a commitment to delivering quality educational programs to students.