Educating Preventive Dentistry
Educating Our Youth Toward Preventive Dentistry
Tooth decay is the number one chronic health problem of children, according to the California Society of Pediatric Dentistry. Dental assistants should strive to help our youth develop good dental habits thorough preventive dentistry. The dental assistant can be a powerful motivator for children to take care of their teeth and empower their parents to lead by example. Most children trust authority figures like dentists and dental assistants, so they can have an influence on the child's dental habits.
The dental assistant and parent should complement the child on their good dental hygiene. By building the child's trust, the dental assistant can help motivate the child to practice good dental hygiene.
Preventive dentistry should have a goal of helping patients of all ages to practice good dental hygiene throughout their lives. The parent and dental assistant must work together as a team to prevent dental disease. The dental assistant is responsible for educating the kids and their parents about dental disease and how to prevent it.
Parents Role in Preventive Dentistry
Parents are a motivating force for their children to practice good dental hygiene. This can include proper brushing techniques, use of fluoride, application of dental sealants, proper nutrition and plaque control. Learning proper dental hygiene starts at birth. As soon as the first tooth appears, the parent should start teaching their child about proper dental hygiene. The parent should also take their child into the dentist office every six months or no later than the child's first birthday.
Dental disease can affect infants, toddlers, and children. It is important for the parent to take their children for regular check-ups at the dentist office to identify dental disease before it becomes an issue. Dental disease can become irreversible and may cause adverse long-term effects or dental anxiety.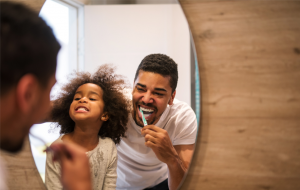 Teeth Evolve & So Does the Preventive Strategy
As a child ages, not only do their baby teeth fall out and permanent teeth grow in, but their teeth evolve. The teeth go through changes in the enamel cementation, dentin and pulp. The dental assistant is responsible for educating children and their parents about proper dental hygiene based on the stage of their teeth.
Are Dental Sealants Good for My Child's Teeth?
A dental sealant can help protect a child's teeth with a coating that covers pits and grooves in baby teeth. Dental sealants can be used to protect hard to clean surfaces of the teeth from bacteria that causes decay. Dental sealants have been proven to be safe by the American Dental Association (ADA).
Is Fluoride Ok for My Child?
Systemic fluoride is ingested in the food we eat and water we drink. Topical fluoride is applied to the teeth with the help of toothpaste and mouth wash. To protect children from receiving too much fluoride, the dental assistant should educate parents about fluoride and its uses. The dental assistant should advise parents to not allow young children to swallow fluoridated toothpaste. The parents should also supervise younger children while learning to brush their teeth, so they learn proper dental hygiene from the beginning.
How to Choose a Toothbrush for My Kid
There are different sizes for children of all ages. Dentists typically recommend soft-bristled brushes for children since the bristles are gentler on the child's gums. The toothbrush should remove plaque without causing any tissue damage in the mouth.
Proper Toothbrush Usage by Children
The American Dental Association (ADA) recommends that a child brush their teeth two minutes twice a day with a toothbrush that has soft bristles. It is recommended to replace toothbrushes every three to four months.  Toothbrushes should not be shared between siblings or with parents. The toothbrush should be thoroughly rinsed after each use. The toothbrush should be stored in an upright position after use to allow the toothbrush to air dry. Overbrushing by the child should be cautioned to not cause excessive wear to the teeth, recession of the gums or exposure of the roots.
Which Toothpaste should My Child Use?
There are different options for toothpaste depending on the child's needs. All toothpastes with the ADA Seal of Acceptance must contain fluoride to strengthen teeth and ingredients to remove food residue. There are many different choices for dental assistant to recommend and should be matched based on the child's needs.
Did learning about helping our youth with proper dental hygiene interest you? Ready to take a program to become a dental assistant? The Dental Assistant Program prepares a graduate to work as an entry-level Dental Assistant, Dental Receptionist, Office Manager or Dental Hygienist Assistant in a dental office, specialty practice, or dental clinic.? PCI Health Training Center Richardson, TX Campus offers the dental assistant program. Contact PCI Health Training Center for more information on how to become a dental assistant and start a rewarding career today.

**PCI firmly upholds its policy of nondiscrimination. Inquiries regarding policy may be directed to TitleIXCoordinator@pcihealth.com.
For more information about our graduation rates, the median debt of students who complete the program, and other important information, please visit our website at www.pcihealth.edu/consumer-information. Dental Assistant program offered at our Richardson Campus.