Prepare For Dental Assistant Interview
8 Questions to Prepare You for a Dental Assisting Interview
Ready to become a dental assistant? Have you graduated from a vocational school's dental assisting program? If you are ready to interview for a dental assisting position, here are 9 questions you will want to prepare for before meeting with the dentist or hiring manager.
Question #1: Tell me about yourself
This is a standard first question for dental assistant interviews. Prepare a short statement that talks about your vocational school and prior work experience. Don't talk about your personal background. This is a chance to make your introduction and a good first impression. Are you a quick learner, good with patients, and/or passionate about the dental field? Take this opportunity to explain what you can add to the dentist's office.
Question #2: What do you enjoy the most about working at a dentist's office?
Enjoy supporting a dentist or working with patients? Prefer greeting patients, scheduling appointments and processing billing? Want to help the dentist with exams and minor surgery? Tell the dentist what you are looking for during the interview, so they can match you with the right opportunity. Some positions will work alongside the dentist exclusively and others will involve clerical work. Being honest is important in an interview but always stay positive.
Question #3: What are your weaknesses?
Always make sure you answer this question positively. Find something that may be seen as a negative for you but that would be a positive attribute for the dentist. Do you get so involved in the job that you forget to take breaks, or you take on additional duties without being asked? Again, make sure you are positive during the interview as negativity will make a bad first impression.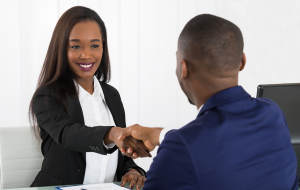 Question #4: What are your strengths?
Take this time to explain why you are the best fit for this position as a dental assistant. Prepare a few strengths and try to tell a story about how it helped you in the past when you were responsible for customers. The strength should be work related and not about personal strengths during the interview. The strengths highlight you and your work experience and how these positive skills will help you at the dentist's office.
Question #5: What is your familiarity with computers?
Most dentist's offices will have some type of appointment software, billing interface and word processing software. The dental assistant should be very familiar with different types of software and be ready to learn new computer applications. This is a good time to mention a short list of the computer software you are familiar with including Microsoft Office, Excel, PowerPoint, or other dental software.
Question #6: How much experience do you have as a dental assistant?
If you just graduated from a dental assistant program, make sure to show how passionate and ready you are to start working. Let the dentist or hiring manager know if you have any administrative or customer service experience as these are skills you will need to be a successful dental assistant. Discuss your training from school plus any externship experience you may have completed. Not all experience is important to mention so don't worry about a newspaper route or babysitting. Focus on recent job experience that mirrors the skills that will be needed to become a dental assistant.
Question #7: Why are you leaving your current position
If you are a recent graduate, this is an easy question to answer. You are moving forward in your career to become a dental assistant. If you have already been a dental assistant, think of reasons that are positive. Is your current job too far away and you want to relocate? Are you looking for a position that allows you to grow and learn new things? Come up with an honest but positive reason for leaving your current job. Stay away from speaking negatively about your former boss or colleagues during the interview as this will make a bad first impression.
Question #8: Why This Dental Office?
Take the time to learn about the dentist and the dental office. What is their philosophy? Do they offer something that other dentists in the area don't? Understand how you can help this specific dental office and let the dentist or hiring manager know that you fit the culture of the office. By doing your research and showing the properly responding to this question, you will show the dentist that you are serious about this interview.
Now It is Your Turn to Ask Questions
After doing your research you may find that you have some questions. Try to ask at least one or two questions as it can be awkward when the dentist asks if you have any questions and you say no. This may tell the dentist that you are not interested in the position.
Stay away from salary and benefits questions in the first interview. If you are a good fit that will naturally occur in subsequent meetings. What is the culture like at the dentist office? On average, how long have our employees worked for you? These types of questions will let you understand whether you are going to like to work at the dentist's office. Don't forget that you are interviewing the dentist as much as they are interviewing you.
Still deciding whether you want to become a dental assistant? Ready to learn more about a program that will help you become a dental assistant? The Dental Assistant Program prepares a graduate to work as an entry-level Dental Assistant, Dental Receptionist, Office Manager or Dental Hygienist Assistant in a dental office, specialty practice, or dental clinic.? PCI Health Training Center Richardson, TX Campus offers the dental assistant program. Contact PCI Health Training Center for more information on how to become a dental assistant and start a rewarding career today.

**PCI firmly upholds its policy of nondiscrimination. Inquiries regarding policy may be directed to TitleIXCoordinator@pcihealth.com.
For more information about our graduation rates, the median debt of students who complete the program, and other important information, please visit our website at www.pcihealth.edu/consumer-information. Dental Assistant program offered at our Richardson Campus.