How Long To Become A Certified Medical Assistant
Become A Certified Medical Assistant in Less Than A Year!
Want a job that is gratifying and challenging? Did you know that it takes as little as nine months to become a medical assistant? You can get educated and certified in under a year and start earning as an entry-level medical assistant. So, are you asking yourself, "What does a medical assistant do?"
What Does a Medical Assistant Do?
Medical assistants are responsible for both administrative and clinical tasks. They greet, escort, and talk with patients. Medical assistants are the patient's liaison between the waiting room up and when they leave the medical office. The medical assistant works closely with doctors and nurses, ensuring that patients have a positive experience. A medical assistant's responsibilities may include:
Overseeing the schedule of the doctor and office
Triaging phone calls as needed
Greeting and escorting patients to exam rooms
Taking vital signs and reviewing medical histories
Collecting lab specimens including blood
Administering vaccinations
Performing diagnostic tests like EKG
Sterilizing instruments and surfaces between patients
Managing medical records
How Do You Become a Certified Medical Assistant?
The first step in becoming a certified medical assistant is by graduating from a medical assisting program at a vocational school. A medical assistant program will teach you what you need to know to start working at a physician's office, medical clinic, or any other medical facility. In the classroom you learn front office skills, anatomy, physiology, pharmacology, first aid, and CPR. During lab work, you learn about phlebotomy, EKGs, and many other clinical tasks that you will perform as a certified medical assistant.
The next step involves passing a certification exam from a select number of medical assistant associations. Passing these exams and becoming certified will help you find your first job as a medical assistant and when you are interested in moving up to a more senior level position.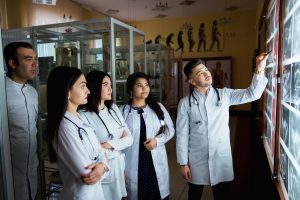 Why Choose a Career as a Medical Assistant?
Careers in medical assisting have many benefits, such as short training programs, a positive work-life balance, flexibility, a supportive environment, and an opportunity to learn. With this information, you can make a better decision whether or not to become a certified medical assistant.
Short Training Programs
In as little as nine months, you can become a certified medical assistant. Most vocational schools focus on what you will need to work as a medical assistant. They prepare you for your first day at work. Much of the learning happens in the lab while being supervised by industry-experienced instructors. This program prepares you for your first day and gives you the confidence to walk into the door of your new job and hit the ground running.
A Positive Work-Life Balance
Most physician offices are open during normal business hours and is when most medical assistant shifts occur. This gives you time to have a life outside of work to exercise, visit with family, take up a hobby, etc. A positive work-life balance is important, so you don't burn out at your job. Becoming a certified medical assistant may give you that balance.
A Supportive Environment
As a medical assistant, you will work with colleagues that care as much about their patients as you do. Everyone in a medical facility has their job to do, but there is always someone available to support you. A medical staff works as a team. Everyone is needed to give patients a positive outcome.
Opportunity to Learn
Part of being a medical assistant involves learning new equipment and procedures. There is always something new to learn. The medical industry moves fast, and there are new technologies being introduced to physician's offices all the time, new vaccines, new ways to test a patient's heart, and more. If you like to learn then becoming a certified medical assistant may be the right career for you.
Final Thoughts
Now that you know how long it takes to become a certified medical assistant, it is time to start the journey. Helping others is gratifying, and having a supportive environment makes work a great place to be, especially if it allows you to enjoy life outside of work, too. If you have a passion for medicine and a true desire to help others, then becoming a certified medical assistant may be the right career path for you. Get ready to start a career you will enjoy for years to come.
Are you looking for a good career in healthcare? Ready for an exciting career as a certified medical assistant? PCI Health Training Center's Medical Assistant program prepares a graduate to work as an entry-level Medical Assistant. Within this general career category there are several specialty areas, including Medical Administrative Office Assistant, Clinic Assistant, Clinic Tech, Medical Office Manager, Phlebotomist and Physical Therapy Aide in a doctor's office, clinic or hospital out-patient clinic. Contact PCI Health Training Center for more information on how to become a medical assistant and start a rewarding career today.

**PCI firmly upholds its policy of nondiscrimination. Inquiries regarding policy may be directed to TitleIXCoordinator@pcihealth.com.
For more information about our graduation rates and other important information, please visit our website at www.pcihealth.edu/consumer-information.