Types Of Medical Assistants
What are the Different Medical Assistant Specialties
Medical assistants are the master support specialists that healthcare providers count on to keep their practices running efficiently. Cross-trained in administrative, clinical and technical tasks, most have a diverse range of responsibilities. From answering the telephone and managing the schedule to working in the lab and providing direct patient care, wherever doctors and nurses are, medical assistants are there to help. But as healthcare becomes more complex, there are more opportunities than ever before for medical assistants to work in select areas of interest. These are some of the most popular specialties.
Specialty #1: Medical Administrative Office Assistant
Doctors want patients who are visiting their practices to have frustration-free experiences, but between the office and the exam room lies an obstacle course of administrative issues that can throw even the most carefully planned appointments off track.
With their unique blend of clerical expertise and knowledge of clinical applications, medical office administrative assistants guide clients through the delicate maze of schedules, information updates, insurance matters and more, making what could be a difficult process stress free. By keeping things running smoothly, they boost providers' productivity and enhance patient satisfaction. Responsibilities may include:
Managing the schedule
Triaging telephone calls
Checking in patients
Updating medical records
Maintaining charts
Assisting with billing and insurance inquires
Forwarding referrals
Scheduling patients for off-site diagnostic tests
Ordering supplies
Accepting payments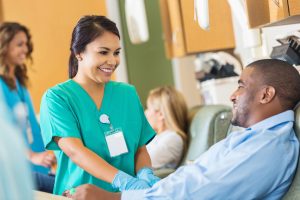 Most medical administrative office assistants work in doctors' offices under the supervision of an administrator, but jobs are also available at hospitals, clinics, and insurance companies.
Positions require a combination of both clerical and interpersonal skills, plus an understanding of medical terminology and the basics of clinical practice. Comfort with computers and medical records management software is a plus, and the ability to multitask is essential.
Customer service skills are especially valuable when working with patients from different backgrounds. Often the first person a visiting patient sees, when medical assistants greet patients with warmth and professionalism they build a patient's confidence in the entire healthcare team.
Specialty #2: Clinical Medical Assistant
All medical assistants can handle administrative functions, but some focus more on providing patient care. Once clients are checked in, a clinical medical assistant prepares them to be seen by the physician. What a clinical medical assistant can do is defined in part by state law so responsibilities will vary, but the role typically encompasses tasks such as:
Reviewing medical history
Updating medication and allergy lists
Noting current complaints
Taking vital signs
Performing routine diagnostic tests
Sanitizing exam rooms
Helping clients with limited mobility
Assisting with minor surgery
Removing sutures or staples
Administering medications and vaccines
Educating patients about upcoming procedures and other medical needs
As the liaison between clients and licensed healthcare providers, clinical medical assistants must be thoughtful and compassionate. The way they handle a client's therapeutic needs reflects on the entire practice, so a gentle demeanor and a professional attitude are a must. Clinical medical assistants don't diagnose or treat illness, but everything they do is in support of those roles so attention to detail is essential.
Additional clinical specialties for medical assistants include geriatrics, pediatrics, cardiology, urology, and women's health. The possibilities are limited only by interest.
Specialty #3: Technical Medical Assistants
In addition to training in clinical and administrative tasks, medical assistants also learn to perform technical tasks including:
Sterilizing instruments
Basic Maintaining of lab equipment
Collecting specimens suc as blood or urine
Performing laboratory and diagnostic tests
Monitoring quality control
Some of these responsibilities are part of a clinical medical assistant's role in smaller settings, but as private practices grow larger, dedicated technical support specialties are evolving.
Once done exclusively in hospitals, minor surgical procedures and routine diagnostics are now performed in doctor's offices. While it's easier for patients to have services delivered at a single site, the rules surrounding the care and maintenance of equipment don't change. Proper sanitation and safety of medical gear are paramount, and the same level of expertise is required to perform procedures regardless of the setting.
A medical assistant's duties may vary depending on the specialty of the practice. A medical assistant working in a dermatology practice, for example, may focus on clinical proecdures which may include instrument sterilization. In a cardiology practice, a medical assistant may focus on performing electrocardiograms.
Technical specialties are perfect opportunities for those who enjoy science or who prefer to master one task rather than be a jack-of-all-trades. Math, reading and time management skills contribute to the success of this type of position.
Specialty #4: Phlebotomist
A phlebotomist draws blood samples, but there's much more to the job than that. The results of blood tests are a large part of how physicians diagnose illness and make treatment decisions, so using appropriate techniques when obtaining and handling samples is critical. As part of the role, medical assistants working as phlebotomists are expected to:
Understand the basics of test methodology
Properly identify patients and ask screening questions when necessary
Accurately label specimen containers
Sanitize equipment and maintain strict infection control procedures
Educate and patients about the blood drawing process and ensure their comfort
Properly process, preserve and ship samples
Because phlebotomist work with patients of all ages, including children, they must be proficient in a variety of ways to take samples and minimize complications.
As part of a medical assistant program, students learn how to perform venipuncture and process the samples they obtain. A well-rounded education that includes training in clerical and clinical procedures makes medical assistants more attractive job candidates to potential employers.
What skills benefit a phlebotomist? Attention to detail and critical thinking skills matter foremost. Using an improper technique can render samples unusable and delay care, while making simple errors in labeling can lead to significant medical mistakes. While performing phlebotomy the medical assistant may encounter complications and therefore must be prepared to manage them.
Medical assistants can work as phlebotomists in doctor's offices, clinics and hospitals. Seeking additional training as a Certified Phlebotomy Technician improves venipuncture skills, and when combined with existing training, it opens up positions requiring greater responsibility.
With their ideal blend of organizational, technical and interpersonal skills, medical assistants are in demand. For students who have an aptitude or desire to work in a select part of the field, specialties are growing quickly. Choose a position with stable responsibilities or opt for one that changes daily. The best part of a career as a medical assistant is that it can offer both consistency and flexibility.
Did learning about the different medical assistant specialties interest you? Interested in working with colleagues that want to help their patients stay healthy? Ready for an exciting new career in the medical assisting field? PCI Health Training Center's Medical Assistant programs prepares a graduate to work as an entry-level Medical Assistant. Within this general career category there are several specialty areas, including Medical Administrative Office Assistant, Clinic Assistant, Clinic Tech, Medical Office Manager, Phlebotomist and Physical Therapy Aide in a doctor's office, clinic or hospital out-patient clinic. Contact PCI Health Training Center for more information on how to become a medical assistant and start a rewarding career today.

**PCI firmly upholds its policy of nondiscrimination. Inquiries regarding policy may be directed to TitleIXCoordinator@pcihealth.com.
For more information about our graduation rates, and other important information, please visit our website at www.pcihealth.edu/consumer-information.