Earn Your Diploma In Medical Office Assisting
Doctors and nurses can heal the sick, but they can't do it alone. Someone has to do the broad range of administrative tasks that are a necessary part of every patient encounter. Who are these versatile support specialists? They're medical office assistants, and they're in demand. The good news is that with a few months of training and a diploma, anyone can be prepared to fill this vital role.
What Does a Medical Office Assistant Do?
Medical office assistants are part of a caring team of healthcare professionals committed to giving patients the best care possible. While doctors and nurses focus on the clinical aspects of medicine, medical office assistants are the logistical superstars that keep things running smoothly behind the scenes.
Their responsibilities include handling office communication, scheduling appointments, maintaining the reception area, managing medical records, general accounting, and ordering office supplies and equipment.
Handling Office Communication
When a patient calls a healthcare provider, they depend on the person answering the telephone to handle their needs. Whether they call to schedule a visit or to report worrisome symptoms, patients want to hear a confident, knowledgeable voice on the other end of the line.
Diploma programs give medical office assistants the background they need in healthcare terminology and office procedures, so graduates are prepared and ready to help.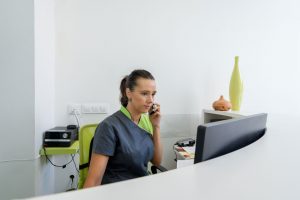 Scheduling Appointments
Medical office assistants are responsible for scheduling patient visits, but there's much more to it than filling in empty time slots. In a large practice, a medical office assistant might have to juggle several schedules as well as manage equipment and personnel needs for dozens of visits per day.
Practice management software makes the job easier, but skills learned in a diploma program help a medical office assistant troubleshoot issues and keep the clinical staff's day on track.
Maintaining the Reception Area
Medical office assistants are the ambassadors of first impressions. The skill with which they greet clients and make the reception area comfortable reflect upon the whole team.
Greeting patients when they arrive, updating their medical records and handling inquiries are important parts of the job that require a friendly, approachable demeanor. Professionalism is expected.
Managing Medical Records
Few things matter as much to the delivery of quality healthcare as accurate medical records. Errors in demographic and insurance information can delay needed care and contribute to medical errors, so focus and attention to detail are critical.
As part of their duties, medical office assistants update patient data at each visit. They also manage the flow of sensitive health information between doctors and patients, as well as referring providers. As part of a diploma program, students learn how to manage electronic health records while maintaining confidentially. Integrity is a must.
General Accounting
In a hospital or large private practice, billing specialists are typically responsible for completing insurance claims and determining the amount owed for services rendered. But as the point of first and last contact during a visit, the medical office assistant may be asked to collect copayments and review accounts for unpaid balances while the patient is present. In a smaller setting, they may be more involved in the complete billing process.
Ordering Office Supplies and Equipment
Equipment and office supplies are a large part of a practice's operating budget, so they need to be carefully managed. Because medical office assistants know what each department needs, they are often responsible for doing the ordering, in addition to evaluating vendors and negotiating lower costs.
Other duties may include:
Transcribing doctor's notes
Completing insurance forms
Helping with marketing and patient education
Assisting with human resources and more
Where Do Medical Office Assistants Work?
Most medical office assistants work in doctor's offices, but their skills are also a perfect match for hospitals and clinics. As part of a training program, a medical office assistant receives general education in a broad range of topics, making them valuable in virtually any healthcare setting.
Hospitals and Clinics
In a hospital, a medical office assistant is most likely to work in one specific department and be engaged in a focused task. An assistant in medical records might spend the day helping doctors and patients find documentation related to past visits, while someone working in the financial office may field patient inquiries or work side by side with billing specialists. With a diploma and experience, medical office assistants working in hospitals may grow into supervisory roles.
Doctor's Offices
A medical office assistant employed in a private practice is more likely to be a jack-of-all-trades. In a large practice, they might start exclusively in a front- or back-office position. But in a small practice, they may be involved in nearly every operation, from answering the phone to working on financial reports.
Medical office assistants who enjoy wearing many hats excel in doctors' offices where they have exposure to the many aspects of office management. With education and on the job experience, they can become office managers.
How Important is a Diploma?
Healthcare is a complex industry, and positions carry significant personal responsibility. As medical professionals, employers are ultimately liable for the performance of their office staff, so they prefer to hire trained applicants with proven skills whenever possible. A diploma opens the door to a wider range of opportunity.
Final Thoughts
Anywhere medical professionals work, knowledgeable office support specialists are needed. In less than a year, students in a medical office assistant training program can receive their diplomas and be on their way to an exciting career in healthcare. Success is just around the corner, so why wait?
Did you enjoy reading about managing the front office of a medical facility or doctor's office? Want to become a medical office assistant? The Medical Office Assistant Program is designed to prepare a graduate to work as an entry-level medical front office assistant, receptionist, insurance biller, insurance collector, appointment scheduler, medical secretary, or medical records clerk in health care centers, clinics, hospitals, ambulatory care centers and medical billing offices. Contact PCI Health Training Center for more information on how to become a medical office assistant and start a rewarding career today.
**PCI firmly upholds its policy of nondiscrimination. Inquiries regarding policy may be directed to TitleIXCoordinator@pcihealth.com.
For more information about our graduation rates, and other important information, please visit our website at www.pcihealth.edu/consumer-information.