Hybrid Online Medical Assisting
Hybrid Medical Assistant Program
The pandemic has affected few things more than education. We've had to make uncomfortable adjustments in the way we do things, but it's getting easier. Communities need more front-line healthcare workers than ever, and the good news is, training doesn't have to wait. Vocational schools are offering hybrid online medical assistant programs to meet demand and keep you safe. It's a benefit for both students and the public.
Medical Assistants are Must-Have Essential Workers
The words "essential worker" brings to mind doctors, nurses and first responders, but healthcare is complex, and it requires more behind the scenes care than the public ever sees. Medical assistants are cross trained to manage a wide range of clinical and administrative tasks, from taking vital signs to documenting electronic health records. Without them, clinical professionals would have less time to spend with patients. Fewer people would be served, and critical details could get lost in the shuffle.
Beyond the pandemic, the healthcare system expects an influx of new patients as millions of Baby Boomers approach retirement age. Demand for medical assistants is expected to rise as much as 19 percent in the coming decade, according to the U.S. Bureau of Labor Statistics. In an era when so many jobs have been made obsolete by technology, medical assisting is a future forward career choice.
What is a Hybrid Medical Assistant Program?
The pandemic has proven to be challenging for all of us, yet some of the lessons we've learned are valuable. We've found new ways of doing things that have had surprising benefits, such as bringing education into the digital world i.e. hybrid.
Students in hybrid medical assistant programs take some classes online, visiting the school and off-campus training sites for hands-on experiences.. Blending online courses with on-campus learning not only reduces student's potential exposure to Covid-19, but it's also convenient, and flexible. Hybrid education has been a surprising cure for more than one problem.
Hybrid Online Medical Assistant Program Benefits
Hybrid online medical assistant programs are a new way to do school. Training is flexible, interactive, supportive, and affordable.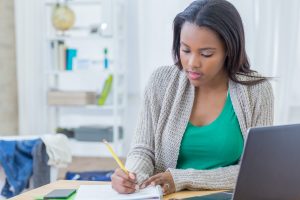 Benefit #1:  Flexibility
Some students who don't seek higher education immediately after graduating from high school never do. Once the financial responsibilities of life take a toll, adults are more likely to work full-time hours to buy food and pay the rent, and what limited time is left over is devoted to family. Advancing their career is put on the back burner, and they earn less than they could.
The most obvious benefit of a hybrid medical assistant program is that online classes are flexible. You can read, study and do homework on your own time. It's a lifestyle-friendly approach that lets you work and have a family life while getting ahead.
Limited on-campus requirements are a better fit for a busy schedule while still emphasizing hands-on training. You'll get to work with medical laboratory equipment in the lab and participate in externships, but without the stress that comes with a crowded schedule.
Instead of taking classes part-time or piecemeal when time permits, you can attend full-time, completing your education in months, not years. You can be earning in no time.
Benefit #2: Interactive
The primary benefit of traditional classroom learning is face-to-face instruction. It has a personal dimension that electronic communication lacks. But new virtual platforms now allow students, peers and instructors to meet face to face online.
You can get the individual attention you deserve while being home with the kids or caring for an elderly parent. It feels like you're right there in the classroom, sharing projects and collaborating with peers. When you head to campus, no one will be a stranger. You'll still make friends and get to know new people while learning mostly online at your own pace.
Benefit #3: Supportive
Busy adults have unique challenges when it comes to education. They can't depend on the usual peer groups and weekend study sessions for support. In addition to help from instructors, students in hybrid programs have access to online forums, many that run at odd hours to meet individual student's needs.
Benefit #4: Save Time & Money
By spending less of your time commuting, you can spend those hours at home or earning while you learn, and gas stays in the tank for more important things. Did you know that the average student spends hundreds of dollars annually in travel expenses between fuel, tolls, parking fees and wear and tear on their vehicles? All you need to work online is a computer and an internet connection.
Vocational schools also assist students in their job search efforts, a value-added service they offer for all types of learning programs. If traditional job hunting is tough due to Covid-19 restrictions, access to job boards and the assistance of an advisor is an invaluable benefit.
Finding employment in healthcare may not be hard for qualified applicants but knowing about the best positions is a different story. Vocational institutions work closely with employers in the community, tailoring their curriculum to meet their staffing needs and in return, students are alerted first when choice jobs become available. Many of those jobs are never posted publicly.
Final Thoughts
Going back to school can seem like just a dream when you're short on money and time, but hybrid online education programs are creating new opportunities for non-traditional students. Front line healthcare workers are in demand now. Enrolling in a hybrid online medical assisting program could be your path to a successful future.
Did learning about the benefits of attending a hybrid online medical assistant program interest you? Ready for an exciting new career in the medical assisting field? PCI Health Training Center's Medical Assistant program prepares a graduate to work as an entry-level Medical Assistant. Within this general career category there are several specialty areas, including Medical Administrative Office Assistant, Clinic Assistant, Clinic Tech, Medical Office Manager, Phlebotomist and Physical Therapy Aide in a doctor's office, clinic or hospital out-patient clinic. Contact PCI Health Training Center for more information on how to become a medical assistant and start a rewarding career today.

**PCI firmly upholds its policy of nondiscrimination. Inquiries regarding policy may be directed to TitleIXCoordinator@pcihealth.com.
For more information about our graduation rates and other important information, please visit our website at www.pcihealth.edu/consumer-information.