Online Medical Assisting Classes
Take A Medical Assisting Program
COVID-19 is affecting lives across the country. People are working from home, limiting gatherings and avoiding public places to avoid exposure to this serious illness. But while there's some uncertainty about how long preventive measures will remain in effect, one thing is clear, this novel virus is here to stay, and more qualified healthcare workers are needed on the front lines to help fight what is now a global pandemic. For anyone interested in a career in healthcare, now is the time to get involved. In as little as nine months, medical assistants can be ready to help their friends and neighbors.
What Does a Medical Assistant Do?
Medical assistants are valuable support specialists. They're trained to handle many of the clinical and administrative tasks that are a part of every patient visit, freeing up doctors and nurses to spend more one-one-time time with the patients they serve.
A medical assistant's responsibilities include:
Managing the doctor's office schedule
Greeting patients
Taking vital signs
Maintaining medical records
Arranging referrals
Drawing blood
Performing lab tests
Ordering office supplies
Filling out insurance claims
Administering medications and vaccinations
Patient education
Assisting with minor surgical procedures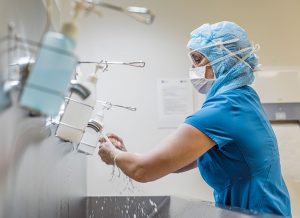 How Does a Medical Assistant Help Fight Public Health Threats?
Medical assistants serve as liaisons between patients and healthcare professionals, medical assistants are a patients' go-to source for timely medical information. As the first person to interact with patients over the phone or when they arrive for a visit, a medical assistant's judgment and clinical expertise is critical in ensuring patient needs are met promptly and in ways that keep others from getting sick. Duties in a pandemic include keeping waiting areas clean, following strict infection control protocols, and educating patients.
Keeping Waiting Areas Clean
Precautions such as hand hygiene and social distancing are proven weapons against the spread of infectious disease like coronavirus. Still, when patients are distracted, they quickly forget how to protect themselves and others, especially in packed waiting areas.
In addition to their typical responsibilities, medical assistants help control the spread of infection during a pandemic by:
Keeping soap, hand sanitizer and other supplies stocked
Reminding patients with symptoms of illness to keep their distance from others
Sanitizing common areas frequently
Screening patients for symptoms
Guiding the ill through the office in ways that limit the spread of germs
By encouraging visitors to practice good hygiene, medical assistants keep patients safe.
Following Strict Infection Control Protocols
Healthcare settings harbor germs other places don't, so following infection control protocols is essential for keeping patients healthy. In addition to disinfecting shared equipment and sanitizing exam rooms, a medical assistant's duties in a pandemic go even further with more deep cleaning and attention to detail.
Educating Patients
The Spanish flu caused the last worldwide pandemic. It lasted from 1918 to 1920, so no one under the age of 80 is likely to remember its impact. When patients are concerned, they need qualified sources of information to turn to when they have questions. In doctor's offices, those sources are often medical assistants. With their clinical know-how, they help patients better understand the symptoms of this virus and when they should seek treatment. It's all part of the effort to provide better patient care.
Training to Become a Medical Assistant
Most careers in healthcare require a college degree, but medical assistants can attend vocational school programs that offer diplomas in under a year. How can they do that? Vocational schools have a targeted curriculum. They teach the practical skills required to be a medical assistant without the elective courses associate degree students are required to take.
While most programs are typically on-campus, social distancing has prompted most schools to temporarily transition to online learning. Most of a medical assisting program, except for labs and a short-supervised externship, can be taken from the comfort of home. Graduates can be ready to help and work full time in the field in as little as nine months.
For anyone out of work and thinking about a new career, it's an opportune time to make a change.
Why Become a Medical Assistant?
Even before the pandemic, the demand for medical assistants was rising. As millions of Baby Boomers retire, there's a greater need for preventive health care. Doctor's offices are leading the way in caring for the vulnerable older generation, serving as a gateway through which they can access medical and home services. At the heart of the healthcare team, medical assistants support the medical professionals that make it happen, and without them, the quality of care suffers.
In addition to a sense of accomplishment and the chance to help the community during a global pandemic, a career as a medical assistant has a lot to offer, including a vibrant job market, a steady schedule, professional respect and opportunities for advancement. The pace is brisk, but the work is exciting and personally rewarding.
Career Services for Medical Assistants
Vocational schools excel at helping graduates find jobs, and more are partnering with healthcare institutions to help fill their staffing needs during this critical time. Graduates also benefit from school services, including career counseling and job placement outreach.
Final Thoughts
Covid-19 isn't the first pandemic our country has faced, and it won't be the last. But what the medical community is learning from the coronavirus is, the best way to fight public health concerns is with skilled staff, and medical assistants are part of the solution.
Did learning about taking online medical assisting classes to help fight the coronavirus interest you? Interested in working with colleagues that want to help their patients stay healthy? Ready for an exciting new career in the medical assisting field? PCI Health Training Center's Medical Assistant program prepares a graduate online to work as an entry-level Medical Assistant. Within this general career category there are several specialty areas, including Medical Administrative Office Assistant, Clinic Assistant, Clinic Tech, Medical Office Manager, Phlebotomist and Physical Therapy Aide in a doctor's office, clinic or hospital out-patient clinic. Contact PCI Health Training Center for more information on how to become a medical assistant online and start a rewarding career today.
**PCI firmly upholds its policy of nondiscrimination. Inquiries regarding policy may be directed to TitleIXCoordinator@pcihealth.com.
For more information about our graduation rates and other important information, please visit our website at www.pcihealth.edu/consumer-information.
Tagged PCI Health Blog, Take Online Medical Assisting Classes to Help Fight Against Coronavirus (Covid-19)