Learn in Dental Assisting School
Do you want to work in the dental field? Most jobs in dentistry require a college degree, but spending years in the classroom isn't an option for everyone. Students attending full-time can complete a vocational school dental assisting program in as little as nine months. It's the fastest way to get out into the field and learn.
What Do You Learn in Dental Assisting School?
Vocational school dental assisting programs cover everything you need to know for an entry-level position at an oral care practice. Courses include:
Anatomy and Physiology
Anatomy and physiology classes cover the body's 12 systems and how they work together to keep us healthy. Oral and general health are linked. Knowing how the body works helps dental assistants educate patients about dentistry and how it contributes to their well-being. Discussion topics include:
Tooth development
Nutrition
Infection control
Gum health
Medical conditions affecting the mouth.
Dental needs for different age groups
You'll build on the knowledge gained in later courses.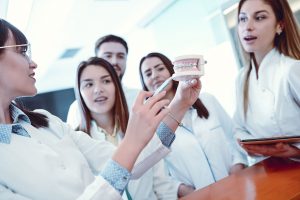 Chairside Assisting
Four-handed dentistry is the latest trend. It's a technique in which the dentist and dental assistant work as a team to reduce the time procedures take. Serving as an extra pair of hands, a dental assistant passes instruments, prepares filling materials, and manages air and water suction, so the oral care professional can focus on other tasks. It's an efficient and ergonomically sound practice.
Radiology
Radiography, or x-rays, are images of the teeth, bone, and nerves below the gum line. It's a dental assistant's role to take high-quality images that can diagnose abnormalities from cavities to abscesses. In a radiology course, you'll learn about different types of x-rays, imaging equipment, patient positioning techniques, and radiation safety.
Office Procedures
Dental assistants manage a wide range of clinical and administrative responsibilities. In a dental assisting program, you'll learn about the importance of customer service, plus how to:
Schedule and coordinate patients
Handle referrals
Assist with insurance claims
Even if you've never worked in an office before, you'll be introduced to the skills you need to feel comfortable on day one.
Laboratory Procedures
Dental assistants can perform preventive care procedures, such as taking blood pressure, applying fluoride treatments, and coronal polishing. They also help make molds and orthodontic appliances in the laboratory. Each of these skills takes experience to perfect, but you'll learn the basics from experienced instructors.
The Benefits of Attending Dental Assisting School
Vocational school diploma programs have distinct benefits that include focused training, industry-experienced instructors, flexible learning opportunities, small classes, and support. All of these benefits help you prepare for your dental assisting career in as little as 9 months.
Benefit #1: Focused Training
How can a diploma program teach students the skills they need in less than half the time of a degree program? The answer is simple; the curriculum focuses on practical skills. The elective courses required by universities are never a waste because they enhance the learning experience, but they're costly and unnecessary for success on the job. Continuing education after graduation offers similar enrichment benefits without delaying students' ability to earn a paycheck.
Benefit #2: Industry-experienced Instructors
Dental assisting is hands-on work, and skills are best learned from instructors with experience in the field. Vocational schools hire well-educated, seasoned instructors with real-world dental experience. That's important at a time when technology continually progresses at rapid rates.
Benefit #3: Small Classes
Students tend to learn better in small classrooms. Instead of being a nameless student in a lecture hall, attend a program where you will receive personalized attention from instructors and get support from peers. The atmosphere in a vocational school is relaxed and creative because students have the time to share insights. Plus, a struggling student rarely falls behind because instruction is more personal.
Benefit #4: Vocational Support
No one takes jobs more seriously than vocational schools. It's their mission not only to educate but also to assist that graduates find relevant work. They partner with local dentists to understand the skills students need from dental assistants to help tailor their curriculum to teach those skills. These practices then turn to schools to meet their staffing needs. It's a win-win.
How Important is Getting a Dental Assisting Diploma?
As we learn more about the importance of oral health, dentistry is becoming more complex. Dentists are ultimately responsible for the competency of their staff, so they prefer to hire well-trained applicants with proven skills. A vocational school diploma stands out on a resume and gives graduates an edge in a competitive field. Why settle for any position when you can qualify for your dream job?
Final Thoughts
Education is an investment, but the time it takes to complete training matters. Now that you know how long it takes to complete dental assistant school, it is time to invest in yourself. If you have a passion for dentistry, a fulfilling career you can be proud of is in just as little as nine months away.
Want to start a career helping others? Deciding whether you want to become a dental assistant? The Dental Assistant Program prepares a graduate to work as an entry-level Dental Assistant, Dental Receptionist, Office Manager or Dental Hygienist Assistant in a dental office, specialty practice, or dental clinic. PCI Health Training Center Richardson, TX Campus offers a dental assistant program. Contact PCI Health Training Center for more information on how to become a dental assistant and start a rewarding career today.
**PCI firmly upholds its policy of nondiscrimination. Inquiries regarding policy may be directed to TitleIXCoordinator@pcihealth.com.
For more information about our graduation rates and other important information, please visit our website at www.pcihealth.edu/consumer-information. The Dental Assistant Program is offered at our Richardson Campus.