What Does a Dental Assistant Do
Most professionals have specially trained staff to help their offices run smoothly. Attorneys have paralegals and legal assistants, while physicians have medical assistants. For students interested in a quick-launch career in dentistry, dental assistants are always in demand, and the field is growing. Dental assisting is more than just a job; it's a rewarding career.
What Does a Dental Assistant Do?
Dental assistants work closely with oral care professionals, performing both clinical and administrative tasks. They're an integral part of a team helping patients achieve optimal dental health. Their responsibilities may include managing the schedule, greeting patients, restocking supplies, billing, sanitizing tools and equipment, performing or assisting with X-rays, updating medical records, coronal polishing, helping in the lab and offering chairside support.
Managing the Schedule
A well-managed day conserves resources, makes the practice financially productive and improves patient satisfaction by minimizing wait time. With both clinical and administrative know-how, dental assistants know how to make the most of a dentist's day by scheduling appointments efficiently.
Greeting Patients
Part of a dental assistant's job is to make patients feel welcomed and comfortable. Seeing a dentist is stressful for some patients, a friendly greeting can put them at ease
Restocking Supplies
An essential part of dental assisting is restocking supplies. Dental assistants check exam rooms before patients arrive to ensure all the necessary tools and supplies are prepared and readily available.
Billing
From filling out insurance forms and obtaining pre-authorizations to collecting cash payments, dental assistants may take an active role in billing.
Sanitizing Tools and Equipment
Overseeing infection control is a significant part of dental assisting. Tools, equipment, and exam rooms must be carefully disinfected between visits to prevent the spread of disease.
Performing or Assisting with X-rays
Dental assistants are trained in radiography, but each state regulates their scope of practice and the duties they can perform. In some, they can take x-rays, while in others, they may only assist the dentist or hygienist by preparing film and mixing developing solutions.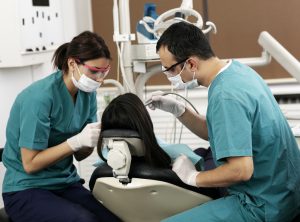 Updating Medical Records
Keeping concise records is a critical part of dental assisting. Before each visit, dental assistants talk to patients about recent changes in their health, including new allergies to medications, and during treatment they keep a running record of the services provided. Updating this information helps dentists make the safest and most effective treatment decisions.
Coronal Polishing
Only a dentist or hygienist can perform cleanings, but dental assistants can lend a hand by polishing teeth above the gum line. This so-called "coronal" polishing which removes surface stains and is more than just cosmetic. It smooths out tiny imperfections on the surface of teeth that encourage bacteria to cling to them and contribute to decay.
Helping in the Lab
In practices with in-house laboratories, dental assistants can help with tasks such as cleaning dentures, taking impressions and making orthodontic devices.
Offering Chairside Support
Dental assistants provide chairside support for both dentists and patients. They pass instruments, manage rinsing and suction and monitor patients for needs.
What Makes Dental Assisting a Great Career?
A job pays the bills, but a career offers so much more. For anyone with a passion for oral health, dental assisting is a way to share what's personally meaningful. It's less of a destination than a journey.
A dental assistant's most rewarding roles include helping educate patients, making the dentist's office a friendlier place, and saving smiles.
Helping Educate Patients
Despite a growing emphasis on health education, dental services remain a mystery to many people. According to the Centers for Disease Control and Prevention (CDC) in 2018, almost 85 percent of adults saw a doctor while fewer than 65 percent visited a dentist, and what's worse are studies suggesting the public is unaware of the link between oral and general health.
Dental assistants have many responsibilities, but among the most fulfilling is patient education. They teach about topics such as:
Brushing and flossing techniques
Dental conditions
Nutrition for oral health
Denture and appliance care
New restoration procedures
Making the Dentist's Office a Friendlier Place
Many patients say visiting the dentist is as stressful as a divorce, and some claim they avoid it altogether out of fear. But whether it's due to simple anxiety or all-out dentophobia, just a few missed visits can mean pain and irreversible harm.
As a liaison between dentists and patients, dental assistants are in a unique position to ease the strain of oral care. They're well-respected for both their clinical knowledge and approachability and as the first person to greet patients upon arrival, their demeanor and professionalism can make or break a patient's experience.
Saving Smiles
Being afraid to smile because of dental imperfections is no laughing matter. Many adults say having bad teeth impacts their confidence and affects interpersonal relationships. One of a dental assistant's most gratifying roles is knowing that the work they do not only protects their patients' general health, but it also makes a difference in their lives in many other tangible ways.
Benefits of a Career in Dental Assisting
Great careers have lasting benefits. Dental assistants enjoy a quick start, a vibrant job market, a steady schedule, and opportunities for professional growth.
A Quick Start
There is a wide range of options for training as a dental assistant, but for students who want to be work-ready as soon as possible, vocational schools offer diploma programs that can be completed in as little as nine months.
A Vibrant Job Market
The need for dental assistants is expected to grow more than 11 percent in the coming decade, according to the U.S. Bureau of Labor Statistics. Students graduating today can expect a lively job market with diverse opportunities for years to come.
A Steady Schedule
Select dental clinics are open on weekends, but most dentists continue to work regular Monday through Friday hours. Dental assistants can choose full- or part-time positions and enjoy a regular schedule with minimal nights, weekdays or holidays.
Opportunities for Professional Growth
Dental assisting can be a forever career, but it can also be just one step on the pathway to higher education. On the job, dental assistants learn new things every day that spur professional growth, and many go on to become hygienists.
Final Thoughts
As dentistry becomes more complex, oral care professionals are finding they can't do it alone. Offering top-quality oral care requires the help of trained support staff, and that makes dental assistants a valuable member of any dental care team.
Did learning about a career as a dental assistant interest you? Still deciding whether you want to become a dental assistant? Ready to learn more about a program that will help you become a dental assistant? The Dental Assistant Program prepares a graduate to work as an entry-level Dental Assistant, Dental Receptionist, Office Manager or Dental Hygienist Assistant in a dental office, specialty practice, or dental clinic. PCI Health Training Center Richardson, TX Campus offers a dental assistant program. Contact PCI Health Training Center for more information on how to become a dental assistant and start a rewarding career today.
**PCI firmly upholds its policy of nondiscrimination. Inquiries regarding policy may be directed to TitleIXCoordinator@pcihealth.com.
For more information about our graduation rates and other important information, please visit our website at www.pcihealth.edu/consumer-information.