Dental Assisting and Dental Office Managing
The dental assistant is the backbone of a dental office and much of what the dental assistant does is dental office management. The dental assistant will greet and escort the patient, prepare and manage work areas for treatments and procedures, schedule appointments, manage computerized records, process insurance billing and claims and insure that OSHA standards are followed and hazardous materials are managed properly and safely. The dental assistant manages the dental office so the dentist can treat patients and hygienists can clean patient's teeth.
Receiving & Escorting Patients
The dental assistant may greet the patient at the reception desk and check them in for their appointment. Update any personal or insurance information that has changed since the last appointment. Charge for any co-pays that may be required as part of the insurance. Finally, the dental assistant will escort the patient back to the dental chair and ensure that the patient is comfortable.
Prepare & Manage Work Areas for Treatments and Procedures
Much of what a dental assistant is responsible for is keeping the work areas of dentist and hygienists clean and sterile. Chairs and surfaces are clean and instruments are sterilized between each patient procedure. The dental assistant may also help the dentist by handing them instruments during procedures.
Scheduling Appointments
Some dentist's offices have a dedicated dental assistant that is responsible for scheduling appointments. They will manage the dentist's calendar, send reminders for appointments to patients and receive calls from patients to cancel or reschedule appointments. The dental assistant will also schedule follow-up appointments after dental procedures or schedule check-ups for dental hygienist patients every 6 months.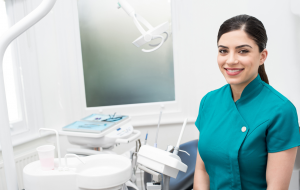 Computerized Records Management
Dental assistants will work with electronic health records (EHR). The EHR manages and stores information associated with the patient's records. The dental assistant can spend time entering dental procedure codes into electronic health records and making notes based on diagnoses and treatments. Â The dental assistant will release information according to regulations. They will process and forward patient requests. The dental assistant will also organize and file patient's medical records, charts and reports to compile documentation of procedures and treatments.
Patient Account Management
The dental assistant may process claims, collect payments, and resolve questions and problems about a patient's account. They will prepare, review and mail statements to patients. The dental assistant processes insurance claims, follows up on delinquent accounts and produces reports for the dentist. The dental assistant will locate and notify patients of delinquent accounts. They will arrange for debt repayment based on a patients' financial situation. The dental assistant will record information about the financial status of a patient and status of the collection efforts. They will also monitor overdue accounts, receive payments and post payments to patient accounts.
Insurance Billing & Claims
The dental assistant will submit and follow up on claims with a health insurance company in order to receive payment for services rendered. Depending on the health organization the dental assistant will either use ICD-10, CPT-4 or HCPCS coding. The codes assist the insurance company in determining coverage and medical necessity of the dental services.
The dental assistant will need to verify the accuracy of billing data, review and retain dental records to compute fees and charges due, prepare bills and record amounts for dental procedures and contact patients in order to obtain account information.
OSHA standards and Hazardous Material Management
Occupational Safety and Health Administration (OSHA) is the law that requires an employer to provide their employees with working conditions that are free of known dangers. To help assure a safe and healthful workplace, OSHA provides dental assistants and other dental employees with the right to receive information and training about hazards and methods to prevent harm.
Dental professionals may be exposed to numerous biological, chemical, environmental, physical and psychological workplace hazards. Being aware of the potential hazards in the work environment makes the dental assistant less vulnerable to injury.
Interested in becoming a dental assistant? The Dental Assistant Program prepares a graduate to work as an entry-level Dental Assistant, Dental Receptionist, Office Manager or Dental Hygienist Assistant in a dental office, specialty practice, or dental clinic.? PCI Health Training Center Richardson, TX Campus offers the dental assistant program. Contact PCI Health Training Center for more information on how to become a dental assistant and start a rewarding career today.
**PCI firmly upholds its policy of nondiscrimination. Inquiries regarding policy may be directed to TitleIXCoordinator@pcihealth.com.
For more information about our graduation rates, the median debt of students who complete the program, and other important information, please visit our website at www.pcihealth.edu/consumer-information. Dental Assistant program offered at our Richardson Campus.