Become A Dental Assistant
Dental Assisting Work
If you've been considering a career in the dental field, work as a dental assistant might be right for you. Dental assistant  can be completed in as little as 9 months, so you're likely to enter the workforce soon. As a Dental Assistant you will be able to help patients and perform many clinical duties in a dental office.
What Does a Dental Assistant Do?
Primarily the dental assistant assists the dentist during diagnosis and treatment of patients. Some possible responsibilities include:
Providing assistance while the dentist treats patients
Taking and developing x-rays
Taking the patient's blood pressure, pulse, and medical history
Sterilizing and taking care of dental instruments
Providing patients with instructions and education regarding upkeep of their oral health
Performing general office management tasks
Communicating with office suppliers and patients
A dental assistant may work in any dentistry-related field including standard dentistry, pediatric dentistry, oral surgery practices, orthodontics, and periodontics.
How to Become a Dental Assistant
The dental assisting field is projected to grow by at least 19 percent from 2016 to 2026, according to the U.S. Bureau of Labor Statistics, making it one of the most rapidly-growing healthcare professions.
Dental assistant programs are available at vocational schools. They generally take less than one year to complete, depending on the type of certification you're pursuing.
Educational courses typically cover:
Oral anatomy
Administration tasks in a dental office
Dental radiography
Dental pharmacology
Dental materials
CPR and basic first aid
You might also complete an externship as a voluntary part of your coursework to get real-world experience before you enter the workforce.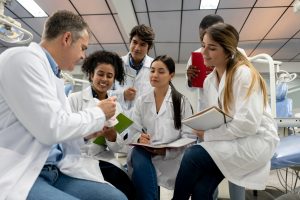 Who Would Enjoy a Career as a Dental Assistant?
The best candidates to become a dental assistant include those with empathy, compassion, an interest in helping others, an interest in continuous learning, and a variety of skills.
Those with Empathy and Compassion
Like any medical profession, those in the dental assisting field should have a sense of empathy and compassion for people who are uncomfortable. Dental procedures can often cause discomfort, especially if patients are young, sensitive or anxious about dentistry. One of the main jobs that dental assistants do is help patients feel comfortable before, during, and after any procedures.
Those Interested in Helping Others
All healthcare professions should promote health and wellness in clients. For dental assistants, interacting with patients makes up the bulk of your day-to-day work.
A dental assistant should look for work in a dental specialty that activates their desire to help others. Helping people is good for one's own mental health as well, whether it's done in the workplace or elsewhere.
A dental assistant that is interested in helping children and making them comfortable may choose pediatric dentistry. Orthodontics is a good field if a dental assistant wants to help people with braces and other orthodontic-related needs. Oral surgery practices are ideal if a dental assistant wants to help people stay calm before and during surgery, as well as supporting patients with the post-surgery healing process.
General dentistry lets a dental assistant interact with a variety of patients during a range of situations, from routine checkups to more serious oral procedures.
Those Interested in Continuous Learning
A career in the dental assisting field will involve continuous learning and an expansion of one's field of knowledge. While a dental assistant's daily schedule and responsibilities may remain fairly routine, they will constantly be exposed to new situations.
A dental assistant will treat patients from a wide variety of backgrounds and with a wide variety of health needs. They will get hands-on experience with office organization and management. It's impossible to stagnate because one's brain needs to absorb new information. A dental assistant that likes to continue learning throughout their life will have a bright future in a healthcare career.
Skills Needed for Success
Dental assistants have a variety of skills they'll need to learn and practice to manage day-to-day job responsibilities. A successful dental assistant will have to pay close attention to detail and have good communication, customer service, teamwork, and organizational skills.
Attention to Detail
Attention to detail is an essential skill for every aspect of this position. A dental assistant needs to make sure sanitization and other health procedures are followed correctly. The dental assistant also needs to be accurate when recording patient information, administering tests, and inputting data into the computer.
Communication
Good communication skills are an essential part of being a dental assistant. Not only will a dental assistant communicate with the dentists to get their instructions, but they'll also interact with patients, office suppliers, and insurance companies.
The dental assistant will need to know how to ask questions to ensure that they understand the dentist's instructions. When talking to patients, a dental assistant will need to understand and clearly communicate procedures, health conditions, and treatments.
When talking to suppliers, a dental assistant will need to communicate their office and healthcare needs. If insurance companies call about billing, they will need to explain the patient's history and treatment in HIPAA-compliant terms.
Customer Service
Customer service is another essential skill. A dental assistant needs to give patients information and listen to their concerns with empathy and understanding. Especially in situations where a patient is undergoing a painful procedure or dealing with a painful illness, it is important that the dental assistant makes the patient's social interaction as easy as possible.
A dental assistant may need to employ problem-solving skills with regards to insurance issues, patient confusion, or patient fear regarding certain procedures. Problem-solving becomes doubly important when a dental assistant works with children, who may not  who may not understand what is happening.
Teamwork
A dental assistant needs to use teamwork on a day-to-day basis. Every employee in a dentistry practice must work together to make sure patients are well cared for and office operations run smoothly. Depending on the size and specialty of the practice, a dental assistant might work with multiple dentists, other dental assistants, receptionists, office administrators, and other healthcare professionals.
Organization
A dental assistant will need to be organized to help keep the office well run. The administrative duties they are responsible for will vary depending on whether the office has a receptionist or a full-time office administrator.
If the dental assistant is in charge of administration duties, they may need to keep and file patient records, set appointments by phone, update billing and schedule information digitally, and prepare the dentist for daily appointments. This means that they will need to have an easily navigated organizational system and be able to focus on multiple tasks at once.
Final Thoughts
Dental assisting is one of the fastest-growing healthcare fields. With recent changes to many insurance policies, more people are able to afford dental care in the U.S. than ever before. Students can complete a 9-month vocational program to become a dental assistant in no time. Becoming a certified dental assistant will let you enter the workforce quickly, accrue experience, and decide where you want to specialize.
Did learning about how to become a dental assistant interest you? Still deciding whether you want to become a dental assistant? Ready to learn more about a program that will help you become a dental assistant? The Dental Assistant Program prepares a graduate to work as an entry-level Dental Assistant, Dental Receptionist, Office Manager or Dental Hygienist Assistant in a dental office, specialty practice, or dental clinic. PCI Health Training Center Richardson, TX Campus offers a dental assistant program. Contact PCI Health Training Center for more information on how to become a dental assistant and start a rewarding career today.
**PCI firmly upholds its policy of nondiscrimination. Inquiries regarding policy may be directed to TitleIXCoordinator@pcihealth.com.
For more information about our graduation rates, and other important information, please visit our website at www.pcihealth.edu/consumer-information..